Herbal Tea Kit
$47.50
Free shipping!
Made with love
Naturally amazing
Packaged with care
Description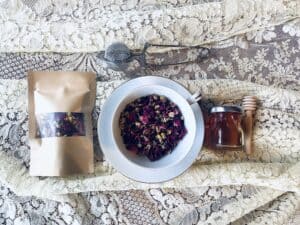 Share a cup of tea with someone you love. This kit includes everything you need for a great cup of tea (Just add water!). Our comforting blend of flowers and herbs will not only refresh and relax but can help you show someone you care. To include a personalized note just let us know!
Kit includes:
Vintage Tea Cup and Saucer (curated randomly from various personal collections over the years)
8 grams (.2oz) of 'Pleasant Peace' Organic Herbal Tea (Rose Petals, Chamomile and Lemon Balm)
Stainless Mesh Infuser
1.5 ounces of Raw Honey
Mini Honey Dipper
Shipping Included. Approximately 4 cups of tea per 8g bag. 
Only logged in customers who have purchased this product may leave a review.