The Honey Bee Queen Soapscription
$47.50 every 3 months with a 3-month free trial and a $47.50 sign-up fee
Seasonally Inspired Artisan Soaps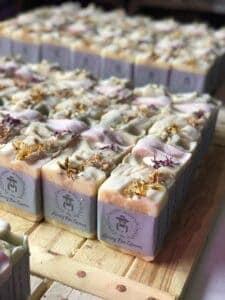 6 in stock (can be backordered)
Free shipping!
Made with love
Naturally amazing
Packaged with care
Description
WE ARE NOW ACCEPTING NEW SOAPSCRIPTION RESERVATIONS FOR THE WINTER 2022 COLLECTION SHIPPING IN DECEMBER.
A quarterly collection of seasonally inspired, small batch, handcrafted artisan soaps.
Soapscriptions are shipped every three months in March, June, September & December.
Each and every small batch bar is inspired by the beauty of the earth and created with natural ingredients sourced as locally and organically as possible. Every bar is created, cut, beveled and stamped by hand.
The quarterly soapscription box includes 5 bars of premium handcrafted soap that have been cured for a minimum of 4-6 weeks and weigh approx 5oz each.
INGREDIENTS: SAPONIFIED OLIVE OIL (cold pressed, extra virgin, organic),  TALLOW (local, pasture raised), COCONUT OIL (organic), CASTOR OIL (cold pressed, gmo-free), ESSENTIAL OILS, CLAY, BOTANICALS (organic and homegrown), SEA SALTS (unrefined)
***PAYMENT/SHIPPING NOTE- the "3-month free trial" is how payments are configured in order to be charged only once when pre-ordering soapscriptions. the cost of the soapscription will automatically be renewed every 3 months (March, June, September, December). Soapscriptions are shipped quarterly.
the 47.50 'sign up fee' is the cost of your first box of soap. this isn't a true sign up fee, but it is simply the way our system works. *IE. if you join our soapscription in February then you are pre-paying for your March shipment. You will be charged again in June for your June shipment, etc.
*you may cancel your soapscription at any time*
Additional information
| | |
| --- | --- |
| Weight | 7 lbs |
| Dimensions | 17.78 × 12.7 × 10.16 in |
| color | Blue |
Only logged in customers who have purchased this product may leave a review.